Brulé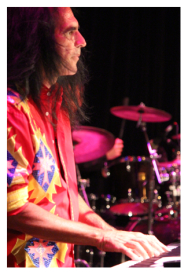 Through the years Brulé has pushed the boundaries of contemporary Native American rhythms and classic rock in their genre-blending selections. Their electrifying show consists of a 5-piece rock ensemble augmented with an array of traditional Native American instrumentation. Paired with the stunning steps of one of the top Native American dance troupes, their authenticity brings a multi-dimensional art form to this cultural rock opera. The musical journey of Brulé's founder, Paul LaRoche, adds an affecting story to audiences, and the result is Native America meets Pink Floyd in a spectacular theatrical stage production of sight, sound, and soul. 
Brulé is planning to play on the hour from 5 p.m.– 7 p.m. on Friday (6/10) and from 11 a.m. to 4 p.m. on both Saturday and Sunday (6/11 and 6/12) on their own stage on the Landmark Plaza (between 11th and 13th Streets on Farnam Street).
Strolling Performers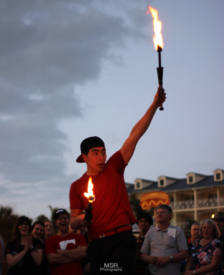 Strolling performers Sam Malcolm and The Spoon Man contribute to the Festival atmosphere! Malcolm's performance is a perfect combination of stand-up comedy, world-class juggling skills and a big smile, which makes his show entertaining and fun for everyone. Off-the-cuff comedy, audience participation and a jaw-dropping grand finale make for a show to remember. Malcolm performs throughout Festival weekend. Performing Saturday and Sunday, The Spoon Man offers a hilarious interactive comedy that's a spoonful of family fun. Performing for over 25 years, The Spoon Man's performance contains outrageous impressions, a sing-along competition and the opportunity for everyone to get "spooned."
Festival Passport Program
On Saturday, June 11 from 11 a.m. to 6 p.m. festivalgoers will have an opportunity to partake in a special OSAF Passport Program. Participants 19 years and older should visit the OSAF Information Booth, located at 13th and Farnam Streets, and pick up a passport card. A series of clues will lead contestants to various locations as they explore the festival site. As each clue is solved, the card will be stamped at each location. Once all of the stamps have been captured, hunters will need to turn in completed cards to the Information Booth to be eligible to win one of many great prizes including cash, gift certificates and merchandise. Winning cards will be drawn and names announced from the Luigi Waitts Main Stage at 6:30 p.m. Participants do not need to be present to win.